Welcome to Requiemscape. This page will be dedicated to new players about getting to know your way around the server and how it works. When you create your account we recommend following this mini guide to explore Requiemscape.
Once you log in to Requiemscape you'll find yourself in the heart of the game, Varrock. We won't let you go on your adventure without some starter items. These items can be very useful at the beginning of your Requiem journey. Use your starter wisely and become one of the greatest adventurers!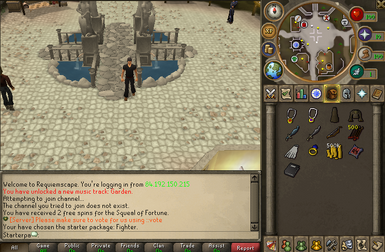 Your starterpack will contain;
Amulet of strength
Amulet of glory
Monk robe's
Iron Scimitar
Rune Scimitar
Shortbow
Ring of recoil
Cape of Legends
XP book
Guide book
500k Cash
Before you start you will have to choose your experience rate. There will be 5 available options. Each option will influence your experience gain while skilling and killingn but also your droprate.
Before you jump into the actio,you will have to choose your experience rate, there are 5 different options. Each with a different droprate and different experience rate
You can change your appearance by talking to the Thessalia,she can be found in the clothshop in Varrock.
Changing clothes
Changing hairstyle
Changing skin color
To get on your way to become the number one you'll be needing our teleportation system a lot. Check the quest tab.This will be te primarly method to find your way around in RequiemScape.
We also have some walking npc's who will grant you acces to completely new and custom area's! They can be found wandering around in Varrock centre!